Next Entry
This blog entry link is here. Viewed: 1270 times.

State of HunsterVerse Announcement for the Month of February 2018
Yet another month (February 2018) quickly went by!
We have been busy patching things in the background and improving HV features.

[User Statistics]
a. Total sign up has now reached 15,000. With 3000+ active connection this month.
b. On average, there are 600+ Unique Hunter playing each day. Our record for unique players playing at the same time was 121!! Check out the graph below: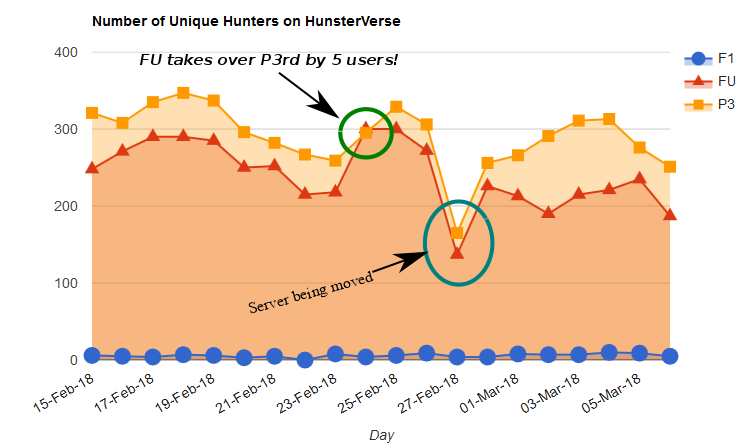 c. Thanks to the vote2kick awesome tool, you guys have been booted snipers left and right! In February, you booted 66 unwanted people out of a GH. The most booted players were MJX, Lyndonskie, dante_josuecrack99 who were booted for a total of 4 times each.
d. Total bans last month was 12 from Ostarion has achieved Cheater Hunter of the month of February.
e. We had some downtime last time; I took that time to move the server around. It made me realize that a lot of our users did not read the announcements

, and so could not connect. Please fix your certificate here. This fix allow me to move the server around without causing any downtime.

[Cool Stuff]
a. You can now freely play God Eater Burst

; Patapon 2 and 3 are also allowed. Join Patapon Discord Here.
b. HV has a twitch account. Check it out Here
c. Damage Calculator can be accessed with the command !proto damage or on the site here!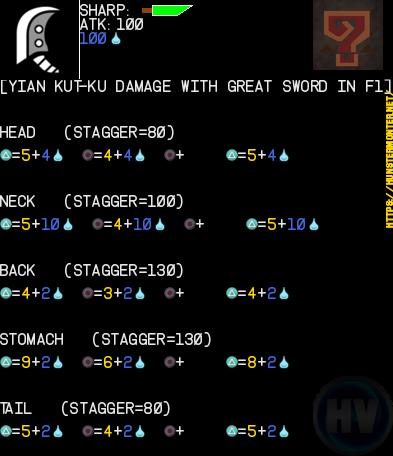 d. HV Guildcard is coming soon. But first, we must give a nickname to all the monsters. Join us here


e. More !proto commands! Check them out on Discord
f. HV Weekly Challenges: NEW SEASON COMING UP SOON, GET HYPED!

[For the LuLz]
a. HV IQ

This image shows it all


Use: /tag HVIQ or !tag HVIQ on Discord.
b. A video from one of our staff


[Special Thanks!]
Thank you to our patrons and to all the kind souls who donated to us!
You make HV possible. Check all our kind donors HERE.


--The Great HV Staff!
Added on 2018-Mar-06
Next Entry
This blog entry link is here. Viewed: 1270 times.

All Entries:
State of HunsterVerse Announcement for the Month of March 2018Current page: State of HunsterVerse Announcement for the Month of February 2018